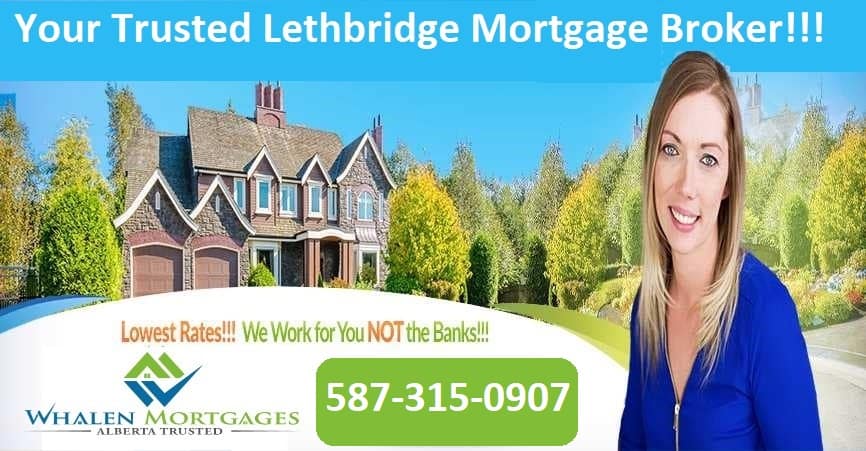 Whalen Mortgage Lethbridge Who We Are!
Whalen Mortgages Lethbridge is one of the best Lethbridge mortgage brokerages. Whalen Mortgages Lethbridge is headed by Jodi and her team. She has a team of dedicated Lethbridge mortgage experts. They work to find their clients mortgage products with a low interest rate and fees, no matter their situation.  Whalen Mortgages Lethbridge can offer this to Lethbridge mortgage customers, because of their diverse range of mortgage lenders and large volumes. Their lender portfolio includes banks and non-bank lenders.
If you're planning on buying a new home in Lethbridge or need to refinance your existing Lethbridge mortgage, contact Whalen Mortgages Lethbridge. Do you need to repair your current home in Lethbridge? Whalen Mortgages Lethbridge has a number of mortgage products that could help you pay for your home repairs or planned renovations. We can also help you buy a fixer-upper and renovate it, so that you truly have the home of your dreams. We can even find you a cabin mortgage or land mortgage. Whalen Mortgages Lethbridge is your Lethbridge's top mortgage broker and handles these types of mortgages all the time.
We can work with any situation. This includes bad credit and home purchases that need to close fast. We can assist the self-employed who have at least two years of income documentation, and we know lenders who won't use the fact that you started a new job against you. We can get you approved for a home loan after other mortgage companies failed to consider your shift differentials, seasonal bonuses or mandatory overtime pay. We can help you find a mortgage that doesn't require 5 percent down, and we're ready to help you cash out your current home equity to buy land or put money down on a vacation property.
We can get you a low interest rate mortgage approval in less than 48 hours. Talk to Whalen Mortgages Lethbridge before you start house hunting, so you can be pre-approved for a mortgage and start your home shopping journey. Our team can get you a bargain on the mortgage for your second home or vacation property, too.
 Whalen Mortgages Lethbridge receives a discounted rate from many lenders because of the volume of business we do with them. And we pass these savings on to you. This means we may be able to get you a lower interest rate than what your current lender is quoting you. This is true whether you're buying a new home or your mortgage is up for renewal.
Another reason to work with Whalen Mortgages Lethbridge is that we work for you, not the bank. We take the time to educate consumers regarding their options rather than steering them to the highest margin financial products. We rely on our reputation for customer service, and most of our customers are referred by other clients.
Furthermore, Whalen Mortgages Lethbridge has partnered with a number of other Lethbridge businesses. We can offer you competitive rates on home owner's insurance and disability insurance independent from the lender so it ports to any lender you go with down the road.
Use our free mortgage calculators and other online tools to learn how much it may cost to own a Lethbridge home or how much you could save by refinancing your debt. Then call Whalen Mortgages Lethbridge to get your mortgage approval started.
 Call us your experienced mortgage brokers in Lethbridge at 587-315-0907 to find out how we can save you money on your Lethbridge mortgage.
Take advantage of our free mortgage calculators.
Get started today and get your next Lethbridge mortgage Approved or Pre-approved now!