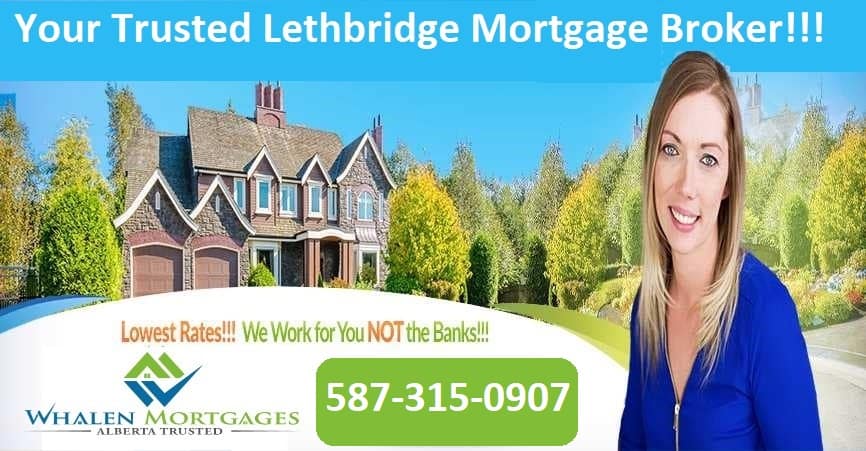 Term
120
Days
9
Month
12
Month

Rental,
Refi,
Vacation

1 Yr Fixed
7.25
8.05
8.25
7.79
2 Yr Fixed
6.39
7.19
7.69
7.29
3 Yr Fixed
5.94
7.24
7.44
7.04
4 Yr Fixed
6.59
7.39
7.59
7.19
5 Yr Fixed
5 Yr
Variable
6.95
6.95
6.95
7.55
5 Yr Fixed
Insured QC
5.49
NA
NA
NA
Lethbridge ATB Lowest Rate Mortgages

Lethbridge ATB
Alberta Treasury Branch or ATV is a popular Lethbridge mortgage lender, because they regularly extend loans for properties many other lenders won't touch. For example, they will finance mobile homes. They have common requirements such as limiting the life of the loan to the functional life of the mobile home based on the economical remaining life.
Furthermore, they'll help you buy the land you'll put the mobile home on, almost regardless of parcel size.  Most mortgage companies won't let you buy more than five acres with a house. If you want additional acreage, you'll have to take out a separate land loan. ATB may allow you to take out a land mortgage for up to 160 acres. In some cases, they will allow you to buy even more. Know that the minimum down payment scales up with the size of the parcel. If you could put 5% down on a 5 acre property, you may be forced to put 20% down on a 20 acre parcel. If you want to buy something larger than 160 acres, you may need to take out a commercial or agricultural loan.
Alberta Treasury Branch will finance construction or draw mortgages. The first draw will pay off any land loan, if you don't own the land outright. After that, you can get up to three draws for "ready to move" homes and four draws for construction on bare land. A ready to move home or inventory home may be one that's under construction or just completed by the builder. If the property is move-in ready, you can use a conventional Lethbridge mortgage to buy it. Consult with Whalen Mortgages Lethbridge, your top Lethbridge mortgage brokers, to know what mortgage product is best given your plans. You may be looking at a series of loans, such as when you take out a land loan with ATB before moving on to a construction mortgage. The 25% or more you put down on the land will be rolled into the larger loan. This may be enough to give you the 5 to 10% equity you need to qualify for the construction mortgage.
What can you do if you need to make repairs or renovations to a Lethbridge home you already own? Alberta Treasury Branch has modest cash-back mortgages available to their customers. For example, you can take out up to ten thousand dollars from your home's equity, assuming you have at least 65% equity in the property afterward. You're free to use that money however you like. This is a popular form of debt consolidation, but it is also a way to finance home repairs or renovations. Talk to a Lethbridge mortgage broker like Whalen Mortgages Lethbridge to find a debt consolidation loan that is right for you. You might want to take advantage of a home equity line of credit (HELOC) or second mortgage instead of a cash-out refinance.
Alberta Treasury Branch is unusual in allowing you to borrow part of your down payment. This type of mortgage is called a flex down mortgage. Why should you borrow part of your down payment instead of waiting to save up? You can take advantage of today's low interest rates. You'll be able to buy a home and start building equity. Know that these loans require decent credit.
Call us at Whalen Mortgages Lethbridge to find the most competitive mortgage on the market.