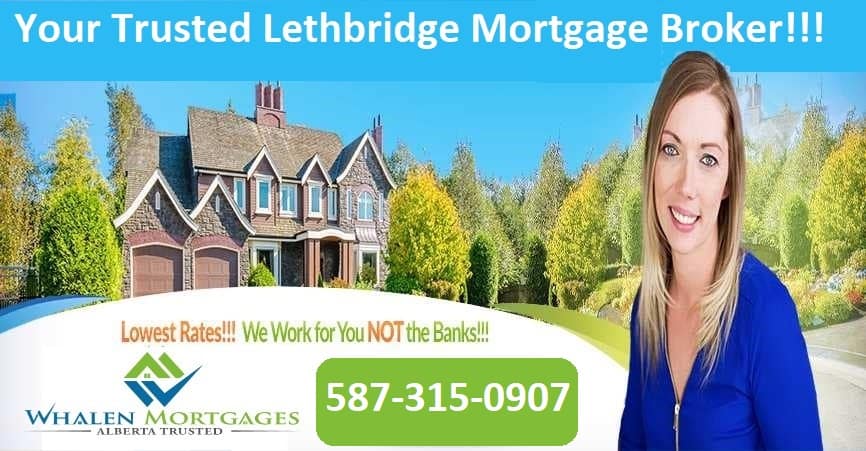 Term
Less
then 20%
20%
or More
Rental
Property

Refi
1 Year Fixed
7.69
7.69
7.84
7.69
2 Year Fixed
7.24
7.24
7.39
7.24
3 Year Fixed
6.86
6.86
7.01
6.86
4 Year Fixed
6.64
6.64
6.79
6.64
5 Year Fixed
Below
6.34
5 Year Fixed
Special
2.75% penalty
5.69
NA
NA
NA
5 Year Variable
6.30
7.20
7.10
6.95
10 Year Fixed
6.74
NA
NA
NA
5 Year Fixed
<65%
NA
5.74
NA
NA
5 Year Fixed
65% to 70%
NA
5.84
NA
NA
5 Year Fixed
70% to 75% LTV
NA
5.89
NA
NA
5 Year Fixed
75% to 80% LTV
NA
6.19
NA
NA
5 Year Variable
<65% LTV
NA
7.20
NA
NA
5 Year Variable
65% to 70% LTV
NA
7.20
NA
NA
5 Year Variable
70% to 75% LTV
NA
7.20
NA
NA
5 Year Variable
75% to 80% LTV
NA
7.20
NA
NA
Lethbridge Lender First National Financial LP

First National Financial LP, also known as First National, is one of the top mortgage lenders in Lethbridge. And they offer Whalen Mortgages Lethbridge some of their best interest rates on Lethbridge mortgages.
First National doesn't have posted rates like other mortgage lenders. This is because they serve almost anyone. Someone with bad credit will be charged a much higher interest rate than someone with good credit, but First National is rare for being willing to consider giving someone with bad credit a home loan in the first place. If you renew your mortgage with them, they often offer a lower interest rate at renewal if your credit has improved.
First National doesn't have hidden fees. Their mortgage prepayment penalties are roughly a fifth of those charged by big banks. They charge reasonable mortgage charges with setting up your mortgage.
First National sometimes offers flex down loans. These are loans where you borrow against a line of credit to put the initial down payment down on your new Lethbridge home. Most mortgage lenders don't do flex down mortgages. Note that a flex down mortgage is not available to those with bad credit or uneven work history. You must have at least a 650 credit score, and you have to be reliably employed. The odds of being rejected for this type of loan are higher than the alternatives. Talk to Whalen Mortgages Lethbridge to learn what your options may be. You could borrow against the equity in your current home, accept a financial gift from family members, have the loan cosigned or take advantage of other funding sources to buy a home.
First National Financial is probably the best choice for those who recently switched jobs or started their own business. Too many lenders want to see two years of pay stubs or income statements for the same employer. If you changed employers or recently opened a company within the past two years, other lenders will hold it against you. If you can prove to First National that you've had a solid income across the past two years – regardless of the source – they'll offer you a competitive interest rate on your Lethbridge mortgage. And they won't hold it against you that you left one job for a higher paying one. On the other hand, you'll be rejected if you try to bloat your stated income by counting fluctuating income such as bonuses and overtime pay as part of your base pay. Consult with the mortgage brokers at Whalen Mortgages Lethbridge to learn how your job housing benefits can be counted toward your income without causing problems with your mortgage application.
First National makes it easy to pay off your home early. For example, they allow you to make fifteen percent monthly or "top up" mortgage payments. For example, if your mortgage payment was 2,000 dollars a month, you could pay 2,300 dollars a month every month without penalty. They also allow you to make a fifteen percent annual lump sum payment. This is roughly twice as much as you'd pay down against the loan balance if you had a biweekly mortgage. Furthermore, First National lets you make double payments. All of this makes First National a first choice for those who want to get out of debt as soon as possible.  
First National rewards its mortgage customers with a free home warranty for the first year they own their homes. This home warranty covers the big items like your furnace, your plumbing system, the electrical wiring and air conditioning. It will pay up to ten thousand dollars in repairs to the covered systems. Note that it doesn't cover everything. For example, these home warranties typically won't cover a pool pump or refrigerator. You'll have to pay for additional coverage. And you'll have to pay the home warranty bill after the 12 month trial period is over. Fortunately, such a targeted home warranty policy has a low monthly payment.
Talk to Whalen Mortgages Lethbridge, your trusted Lethbridge mortgage broker, to determine if a First National home mortgage is right for you. You'll have to go through a mortgage broker, because they don't have physical branches. On the other hand, they don't have to charge you higher interest and/or fees to pay for their office space. Call now or apply online now!