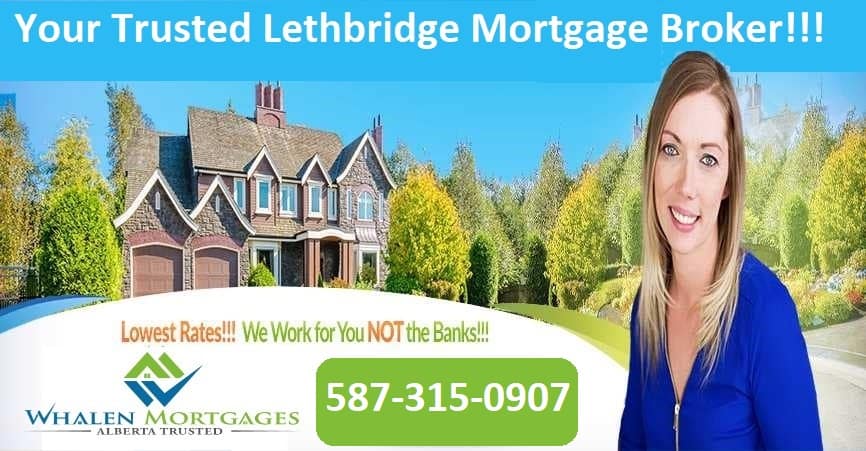 Term
Less then
20%
More then
20%

Refi or
Rental
1 Year Fixed
7.44
NA
2 Year Fixed
7.14
NA
3 Year Fixed
6.39
NA
4 Year Fixed
6.39
NA
5 Year Fixed
5.84
Variable
5 Year Variable
6.30
below
#REF!
5 Year Fixed
<65%
5.84
below
5 Year Fixed
65% to 70%
5.99
below
5 Year Fixed
70% to 75% LTV
6.09
below
5 Year Fixed
75% to 80% LTV
6.09
below
5 Year Variable
<65% LTV
NA
6.3
5 Year Variable
65% to 70% LTV
NA
6.5
#REF!
5 Year Variable
70% to 75% LTV
NA
6.7
#REF!
5 Year Variable
75% to 80% LTV
NA
6.7
#REF!
Lethbridge RFA
Whalen Mortgages Lethbridge is your top Lethbridge mortgage broker. We don't issue mortgages. Instead, we shop your mortgage request with a variety of lenders in our network to find you the best rates and loan terms. RFA Mortgages is one of our top mortgage lenders. This is due in part because they offer mortgage products the big banks do not.
For example, RFA Mortgages has purchase plus improvement loans. You can use these homes to buy a fixer-upper, one of the few choices for up-and-coming neighborhoods. Or you could buy a home that wasn't completed by the last buyer or make necessary renovations so that your family can be comfortable there. These loans allow you to borrow up to the expected value of the property once it is renovated. You'll get the cash to buy the property as-is and one or more "draws" to pay for the renovations.
These loans are higher risk for lenders. They're also more work, since the property has to be inspected during each stage of work. That's why most lenders won't issue a loan for more than the property's current value. RFA Mortgages will issue an improvement / plus loan that is less than twenty percent of the improved value of the property. This amount tops out at forty thousand dollars in most cases. This means you can't buy a three bedroom starter home and turn it into a mansion. However, if the property is particularly valuable, they may authorize a little more than 40K. Note that all renovations have to add value to the property, so don't expect them to pay to turn the second bedroom into a luxury spa. You'll have to submit an application that explains what you'll do to renovate the property in order to get it approved.
RFA is unusual for being willing to loan money to people who are new to Canada. Their qualifying criteria for this program are different than what you must meet as a long-time resident. Contact Whalen Mortgages Lethbridge to learn whether or not we can work with RFA to help you, as an immigrant, buy a home in Lethbridge.
RFA has a wide range of conventional mortgages, both commercial and residential. One of the advantages of working with RFA is that they are eager to work with business owners. For example, they allow you to state your income instead of having to provide two or more years of income statements. Note that debt to income ratio limits and minimum income rules still apply. Know that the minimum down payment in these cases is 35%. You can't accept gifts or take out a loan from another source to put down on the property. Talk to Whalen Mortgages Lethbridge to learn how you could take advantage of money from your RRSP to make your down payment. If you have this documentation, you're eligible for a home loan with 5 to 10 percent down.
They have no-money-down or flex mortgages. If you put 5% down and another 5% is gifted to you, they'll offer you a competitive interest rate. If you already have a flex-down mortgage with another lender, RFA may let you refinance to a lower interest rate if you have a good credit score.
RFA may allow you to get an uninsured mortgage, even if you're self-employed and not putting a lot of money down. To qualify, you'll need to prove you've saved up six months of tax payments and house payments. This sounds like a lot, but know that most lenders would simply reject such a mortgage application. Consult with a Lethbridge mortgage expert to understand what mortgage product may be right for you. It might by RFA, or it may be one of our other lenders.
Being an RFA mortgage customer has a number of benefits.
They have an easy to use online portal where you can change your prepayment frequency or increase your payments.

You can make a 20% lump sum principal payment once a year.

You can increase your payments up to twenty percent and have all of the additional money go straight to the principal balance

You can use their portal to end the extra principal payment if necessary.

Interest rate quotes are held for 120 days, when many other lenders only do so for 60 to 90 days.
RFA does not have posted interest rates. This is partially due to the fact that they deal with clients who may be charged a higher interest rate due to their high risk profile. On the other hand, a mortgage broker can walk you through the mortgage application process and even get you a discount based on the volume of business they do with RFA. Call Whalen Mortgages Lethbridge, the top Lethbridge mortgage broker, today. You can also apply online.
Call our team today your top Mortgage Brokers in Lethbridge today 587-315-0907 or apply today.