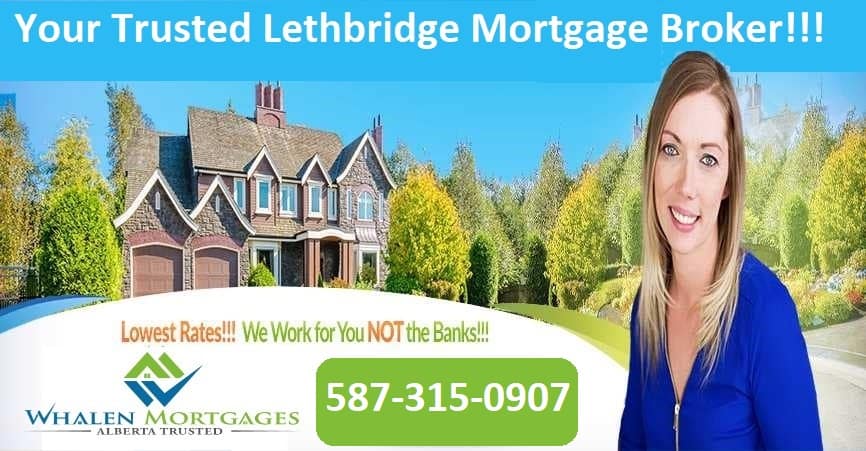 Term
Our Rates
Less then
20% down
25 yr am
Rates
20%
down
30 yr
Rates
or
Rentals
Banks
Posted
Rates
1 Year Fixed
7.09
7.29
7.69
2 Year Fixed
6.69
6.89
7.29
3 Year Fixed
6.29
6.49
6.89
4 Year Fixed
6.09
6.29
6.69
5 Year
Variable
6.80
7.00
7.40
7.20
5 Year Fixed
5.89
6.09
6.54
10 Year Fixed
6.59
6.79
7.19
Lethbridge Mortgages Scotia Bank

Lethbridge Scotia Bank
Scotia Bank is one of the top Lethbridge mortgage lenders. The fact that they're one of the five biggest banks in Canada is a factor, but their low interest rates are also a factor. Know that you can get a better deal than the posted rates at Scotia Bank. For example, Lethbridge mortgage brokers like Whalen Mortgages Lethbridge can get a lower interest rate due to the volume of business they do with Scotia Bank. And we pass on these savings to our customers. This is but one reason to work with Whalen Mortgages Lethbridge,  your Lethbridge mortgage broker.
We understand the lender's terms and qualifications. We can help you qualify for the lowest possible interest rate. We can prevent the mistakes that cause people's loan applications to be rejected, too. It isn't always because your debt to income ratio is too high or your credit score is too low. You might be overstating your income by incorrectly including bonuses in your base salary or be understating your income by not including employer housing benefits. If you make errors on the application, it may be rejected, too.
Don't assume that a mortgage lender will give you a preferable rate or faster turnaround because you've done business with them for years. Because Whalen Mortgages Lethbridge sends them so much business, they often approve our clients' applications in a matter of hours. This is invaluable when you're ready to go house shopping this weekend. This fast turnaround is critical if you need to lower your house payments immediately due to a financial crisis. Furthermore, we offer our clients the personal touch big banks won't provide. If you are rejected by a Big Bank, we can help you find alternatives.
Why is Scotia Bank one of our top lenders? First, they're one of the few lenders who offer relatively low rates on purchase plus improvement loans. We're familiar with the Scotia Bank mortgage application process. We can help you draw up a construction plan and timeline and submit it with the mortgage application, maximizing the odds of approval.
What are a few other reasons to work with Scotia Bank?
They allow a 15% monthly increase in house payments

You can put down 15% lump sum payments annually

You can double up on house payments

They offer skip a payment privileges if you prepaid prior months

You can pay mortgage payments ahead of schedule without penalty
This means you could pay the next three months out of a seasonal bonus and don't worry about it for a month
They have a 90 day rate hold on mortgage quotes

With 20% down, you can get a 30 year home loan

Portable mortgages

They offer debt consolidation loans, home equity loans and unsecured loans for Lethbridge customers
Contact Whalen Mortgages Lethbridge to learn whether or not Scotia Bank is the best choice for your new mortgage. We're your trusted Lethbridge mortgage broker. You can call us today or apply online. We'll help you find the loan with the lowest fees and interest rate, and we can help you find a mortgage product with the terms and conditions you want.
Call your Lethbridge trusted mortgage brokers at team Whalen Mortgages to get started with your mortgage transfer or new home purchase. 587-315-0907 or apply online.