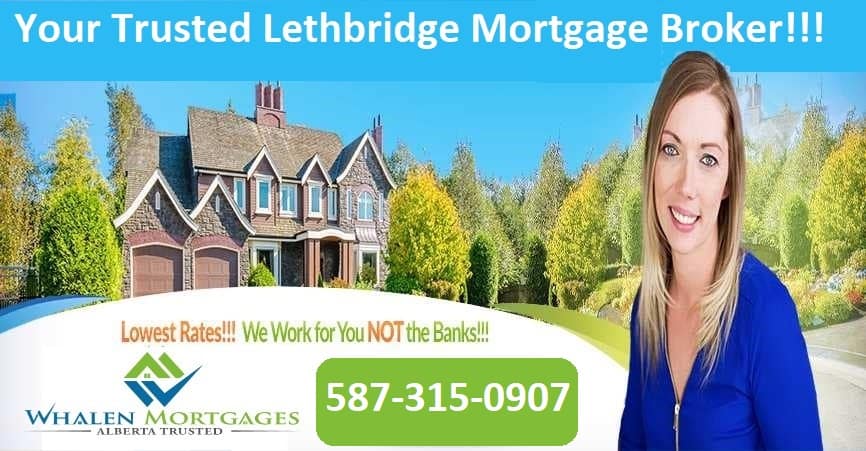 Lethbridge Mortgage Rates
Rates are subject to change due to changing market conditions.
Lethbridge residents trust Whalen Mortgages Lethbridge to get them the lowest interest rates. Whalen Mortgages Lethbridge has partnered with the top mortgage lenders in Lethbridge to get our clients the lowest interest rate on their mortgage. Due to our volume discounts, we may be able to get you a lower interest rate with your current lender, if you want to refinance your Lethbridge home.
We want our clients to be fully aware of their options and what they're getting into. That's why we take the time to explain all of the options on the table. You'll understand the trade-offs like a low mortgage rate in exchange for a longer term or a higher interest rate while having the ability to double up on your house payments. You will understand if a fixed rate mortgage has a higher interest rate than a variable rate home loan, and you'll have the information you need to choose the right mortgage term and mortgage product to balance risk with reward. We can also connect you with Lethbridge lenders that don't use the stated interest rate. They may use a contract rate plus a modest margin to offset risk and generate a profit. Paying higher upfront fees may result in a lower interest rate, too. A variable rate mortgage will give you a lower interest rate when interest rates are low, but you take the risk that the house payment will rise when the Bank of Canada meets every few months. Note that Lethbridge mortgage interest rates can only go up in 0.25% increments. And this rate will always be slightly higher than the Bank of Canada's rate.
Whalen Mortgages Lethbridge believes in transparency. You'll understand the pros and cons of every lender you could choose. This is true whether you're buying a new home in Lethbridge or tapping into your home equity to pay off high interest rate unsecured debt. Call Whalen Mortgages at 587-315-0907 to find out how much we could save you with a mortgage refinance or debt consolidate loan. Contact us to find out how much less you could pay every month by negotiating your Lethbridge mortgage with your current lender, too.  Our team at Whalen Mortgages Lethbridge offers this service, as well, and mortgage renewal is a great time to learn about your options.  Feel free to use our online mortgage calculators before you call Whalen Mortgages Lethbridge or apply online today.
We have not only the best rates but a team full of experienced mortgage brokers in Lethbridge to offer you top notch service. We work around your hours to ensure getting a mortgage is a smooth transaction on your next Lethbridge home purchase or your renewal of your Lethbridge Mortgage.
| | | |
| --- | --- | --- |
| | | |
| | 1 Year Fixed | 7.04% |
| | 2 Year Fixed | 6.39% |
| | 3 Year Fixed | 5.94% |
| | 4 Year Fixed | 5.74% |
| | 5 Year Fixed | 5.49% |
| | 10 Year Fixed | 6.39% |
| | Variable Rate | 6.10% |
Or apply online today to get your new Lethbridge Mortgage started.