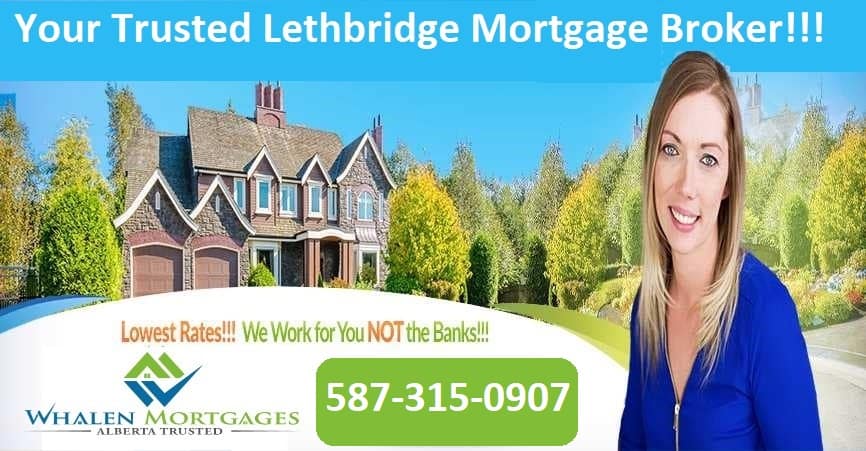 Lethbridge Mortgage Refinance! Lowest Rates. 
Refinance Lethbridge Mortgage
There are many reasons you could refinance your Lethbridge mortgage. However, there needs to be a good reason to do so, since you'll pay a fee to do so unless you're in your mortgage renewal period. What are the top reasons to refinance your Lethbridge mortgage loan?
Your Credit Has Improved
If you had bad credit when you took out your initial mortgage, you might be paying far more than you would if you refinance the loan. Use a mortgage calculator, and find out if the cost of breaking the mortgage is less than what you'd save in interest on the remaining life of the loan. Or consult with one of the mortgage experts at Whalen Mortgages Lethbridge to find out how much money you could save. We are your top mortgage brokers and will get you the best mortgage rates in Lethbridge give our team a call today and we will get you the lowest mortgage rates and make sure we find a mortgage solution to fit your needs.
Mortgage Rates Have Fallen Significantly
If you took out a home loan when interest rates were above five percent, you might profit by refinancing your mortgage at two or three percent even after taking bank fees into account. If interest rates have come down, you should also look into refinancing your adjustable rate mortgage into a fixed rate loan. Note that you can ask mortgage brokers like Whalen Mortgages Lethbridge to find out what you could save if you refinance your mortgage. They can even help you negotiate better loan terms with your lender, if the home mortgage is up for renewal.
You Need to Change the Loan Terms
Breaking the mortgage may be the only way to get better mortgage terms. This could take the form of a shorter mortgage term, an open mortgage, or lower fees. On the other hand, you may want to refinance the mortgage and bundle your second mortgage into the first to lower the total interest rate paid. Your lender isn't going to add another 20,000 dollars to the first mortgage without refinancing the loan. 
On the other hand, you may be able to transfer the mortgage to a new property, if you have a portable mortgage. In this case, you'd simply keep the same mortgage terms and have the loan secured by the new property. It is up to you to pay the difference between the value of the two properties, if the second one costs more than the first. Bridge loans are available to cover the cost of the first property until the original home sells.
Changing loan frequency may or may not require refinancing the loan or changing lenders. Your lender may let you switch from monthly to biweekly payments without anything except an application. However, you'll need to break your mortgage and move to a new lender if you're unhappy with your current Lethbridge mortgage company. This might be the best way to end a business relationship when they won't let you cancel unneeded add-ons to the policy or keep spamming you with ads. But switching lenders may let you get a free home warranty or allow you to take advantage of independent insurance policies.
You Need to Tap into Your Home Equity
Talk to a Lethbridge mortgage broker like Whalen Mortgages Lethbridge if you want to tap into your home equity. It doesn't matter if you want to use the money to renovate your current home or put down a down payment on your retirement home. Consider refinancing the current mortgage to lower the monthly payments or pay off the loan faster. You may pay just as much on the total loan after taking out 30K to pay off credit cards given today's low interest rates as you are currently paying on your Lethbridge mortgage.  Better yet, it costs nothing to consult with the experts at Whalen Mortgages Lethbridge.
Call today your mortgage broker in Lethbridge to get started on your refinance and discuss all the different lenders and products including mortgage interest rates so you can pick the best mortgage product for your situation. 
Apply On-Line Today!