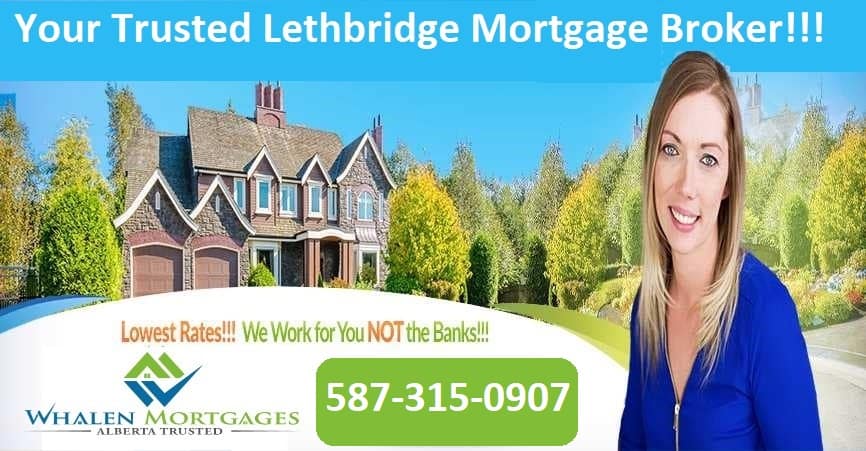 Lethbridge Mortgage Renewal or Transfer! Lowest Mortgage Rates. 
One industry expert said that round ninety percent of Lethbridge mortgage customers renew with their current lender. Why? Simplicity, for one. Fear is a contributing factor for others, because they think that applying for a new mortgage with another mortgage lender in Lethbridge is too difficult. Or they're afraid of being rejected. Yet this is the best time to shop around for a better mortgage rate or make changes to your current loan structure.
A mortgage renewal is a great time to renegotiate your current loan with your mortgage lender. If your credit has improved, you could push for a lower interest rate. After all, you have the option of transferring the mortgage to a lender who offers better terms. You could also use the mortgage renewal as an opportunity to cash out home equity or pay down the loan balance when you transfer the loan.
Don't let the fear of rejection or the prospect of doing paperwork prevent you from finding out how much money you could save. Let Whalen Mortgages Lethbridge help you with the mortgage application process and shop your loan with our lender network. You might be offered a lower interest rate or better loan terms by a lender outside of Lethbridge and the Big Banks which can hold big penalties.
Our consultations are free, and Whalen Mortgages Lethbridge offers Lethbridge residents a no obligation rate quote. Or use our online mortgage calculators to see how much money you could save.
We have tons of lenders who can offer you better mortgage rates and that have lower penalties and prepayment privileges. We have top lending status to ensure we are getting you the lowest mortgage rate in Lethbridge. We have over 30 lenders that compete on rate to get your business let us use our relationship to lock you in a low mortgage rate on your Lethbridge Renewal. We know how to get you the lowest mortgage rate and also make sure you are never stuck with large inflated penalties we know our lenders and all the products they offer, if there are any restrictions to your mortgage renewal for your Lethbridge home. We take the time to explain this to our clients so you are never stuck with any hidden fees or massive penalties if you need to break your mortgage early. Each lender has a variety of different mortgage products and options. We believe in explaining the mortgage lenders and products and let our clients pick the right lender or bank for their Lethbridge mortgage renewal.
One lender offers a special home product called the home encompass warranty as a bonus they pay the first year. You can keep the coverage after the year and pay 17.95 a month to keep this coverage. It covers up to 10,000 a year in unforeseen breakdowns with electrical, air conditioning, heating and plumbing. This bonus the lender offers gives flexibility and security with your home and future unexpected costs. We have a different lender who offers appliance warranty for any break downs in your home appliances these are just some of the amazing products out there you can get on your transfer. We also have independent life and disability coverage we offer that ports with you if you change lenders and unlike the banks it is fully underwritten upfront so you have peace of mind knowing if you pay for the coverage you will qualify for the benefit should anything happen in life. Call Whalen Mortgages Lethbridge today to see your options. A lot of lenders we use are monoline lenders so they have the backing of the big banks as silent investors however no big penalties like the big banks as they do not have posted rates that they use in calculating interest rate differential on a fixed rate mortgage.
Lethbridge Whalen Mortgages are your Lethbridge mortgage experts; we're here for you any time and always ready to help! Apply On-Line Today!
Your Lethbridge Mortgage Brokers here to help you save on your Lethbridge Mortgage Renewal!! 587-315-0907 call Jodi Whalen and her team today!!